Transportation - Hanoi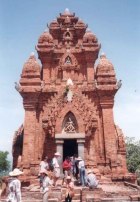 Cham Temple - Danang




Boating - Nha Trang



Children - Hanoi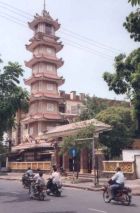 Xa Loi Temple - Saigon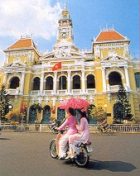 Street scene - Saigon




Vendors - Saigon



Sunset - Nha Trang





Vietnamese lady in traditional Ao Dai dress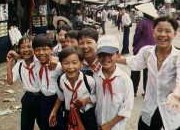 Here's a good example of an extended Vietnam Tour, exploring most of what this magnificent country has to offer (allow 15 days). During this this trip you'll be enchanted by the breathtaking landscapes of Ninh Binh, Hue - the city on the banks of the Perfume River, The Red delta in the north with Hanoi as the capital city of Vietnam. Saigon or Ho Chi Minh City with the floating market of Cai Ranch or its interesting war museum. Beautiful Nha Thrang, with their pristine beaches and of course Halong Bay, a absolutely must on your itinerary. Besides all these highlights, perhaps the greatest reason why a Vietnam adventure will turns into an unforgettable experience will be your contact with the friendly Vietnamese people.

I would recommend to start your tour either in Hanoi or Saigon, depending on your arrival of course. While i came from Bangkok, i landed at Hanoi. Thus this example start right there in Vietnam's capital city.
My own private trip has been partly organized by Saigon-Tourist. They did a great job ! My compliments goes to Nghiem Thuy Ha our private tour guide plus the driver who will wait you upon arrival with an airconditioned private car at the airport. I highly recommend their services. Call 2.50923 in Hanoi or check their brandnew homepage - Click plan Your Trip above. Oh yes, Ha (name of our tour-guide) is in the picture on the introduction page. Watch her cute smiling face in the middle of the title banner or check out The Slide Show. Anyway, give her my best regards please. Thank You.

DAY 1


Arrival Hanoi
Take a one-dollar cyclo ride (usually available in front of major hotels) to take the first glimpse of this city with colonial styled architecture and its many lakes. You'll notice the crowds at the Old Quarter, filled with great shopping ideas. Each street has its own product range. For example there's an entire street just with shoe shops. Another street has only ironware for sale while around the corner is a street lined with farmacies. In the evening, try ChaCa La Vong for its specialty fish dinner before taking in the atmospheric Thang Long water puppets show.

DAY 2



Full day in Hanoi
Visit Ho Chi Minh's Mausoleum, House and Museum for an insight into the great leader's life. See the one-pllared Chua Mot Cot pagoda. After lunch, take a cyclo to the scenic West Lake to see Tran Quoc, Chua Kim Lien and Phu Tay Ho pagodas. At the nearby Lake of the Restored Sword, the Tortoise Pagoda takes centrestage. Finish the day with stops at the Grand Opera House, the chic Sofitel Metropole Hotel and Mai Gallery, which exhibits thought-provoking works of art by contemporary Vietnamese artists. If you're into some nightlife - try Smiling, this is where the young vietnamese feasts together with tourists (i experienced it myself).

DAY 3


Hanoi to Halong
As you should set sail in the morning to explore the Bay of Halong, i recommend to arrive in Halong afternoon, make a boat trip reservation now, for a trip tommorow morning (note: i've done the boat trip in the afternoon and experienced a typhoon at sea, turning the sky into black). Ask if lunch is included on board. This evening, join the locals at the beach before sunset and have your dinner at an outside café. There's are a few nice Karaoke bars in town.

DAY 4


Halong to Hanoi
In the morning, boat trip in the Bay of the Dragon, a spectacular labyrinth of limestone outcrops and caves. Take your lunch on board (if it is included, otherwise you might carry a lunchbox). Leave for Hanoi again upon arrival back in port.



DAY 5


Hanoi - Chua Thay - Hanoi
Along the way to the Chua Tay Pagoda you will be able to witness the daily life on the fields. Then proceed to the Pagoda of Tay Phuong, famous for its 76 wooden statues. Back to Hanoi for lunch. Visit the Army museum and the temple of Literature. Take a cyclo to the area around the Hoan Kiem Lake.

DAY 6


Hanoi - Ninh Binh -Hanoi
Today, it will be another highlight of your trip again. A trip to Ninh Binh in the middle of The Bay of Halong on land, famous cause the area was in use as the set for the movie Indochine. Boattrip to the Tam Coc tunnels along the ricefields bordered with limestone formations. Pick nick before you continue to the temples of Dinh and Lê dynasties in Hoa Lu. Arrive back in Hanoi early evening.

DAY 7


Hanoi - Hue
You should have an early flight to Hue, the last emperor's capital city (1802-1945) and capital of the cone hat. Hue is known for its famous Citadel from where the Nguyen kings ruled for over a century. Explore highlights of the Imperial City and the Forbidden Purple City, and then cruise down the Perfume River, passing the glorious tombs of the Nguyen kings, beginning with Thien Mu Pagoda and ending with Khai Dinh's tomb.

DAY 8


Hue - Hoi An
Stop at the Marble Mountains, a haven for the Viet Cong during the war, before heading for Danang to visit its exquisite Cham Museum. Then, an exciting mountain descent down Hai Van Pass and a stop at Lang Co Beach for lunch and stunning Loc Vinh Beach for a swim before arriving at Hoi An, the most charming town of Vietnam. Reamrkable are the Chinese clan temples and the Japanese bridge. Short boat trip on the Thu Bon River.

DAY 9


Hoi An - Ban Me Thuot
In the morning back to Danang for your flight to Ban Me Thuot at the Central Highlands. The area is home to 31 ethnic minorities. The Ede and the M'nong tribes are the most important. Trip to the village of Lak. Lunch before you'll take a boat trip at the Lak lake to visit a typical M'ning village on the back of an elephant. Back to Ban Me Thuot.

DAY 10


Ban Me Thuot - Nha Trang
A very scenic drive along the rubber- and coffee plantations. Time to visit a Ede village, and a few other villages as well on your way. Lunch somewhere on your way, before you'll arrive at Nha Trang, situated on a beautiful beach. This is one of the major beach resorts. Visit the ancient Cham ruins of Po Nagar.

DAY 11


Nha Trang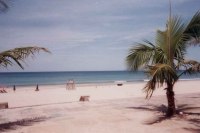 Full day at the beach resort with heaps of options. Begin with breakfast at the nostalgia-rich Bao Dai Villas, home to the last emperor of Vietnam. Why not having a boattrip in the morning in the Bay, there are plenty of nice islands to visit. Perhaps you would like to bring a visit to the Oceanographic Institute, Yersin Museum, Dam Market and end your day on the powdery white sands of Dai Lanh beach.

DAY 12

Nha Trang - Ho Chi Minh City
Take your flight in the morning to Ho Chi Minh City (Saigon). Visit the Chinese area of Cholon: the Binh Tay market and the temple of Thien Hau. In the afternoon, i recommend to take an excursion today to the famous Cu Chi tunnels.

DAY 13

Ho Chi Minh City - Can Tho
Start your day with a trip on a airboat to Can Tho, in the heart of Cuu Long or The Nine Dragons, the poetic name of the Mekong Delta. in the afternoon, i suggest you to visit the Binh Thuy temple and the Khmer pagoda of Soc Trang. Spend your night at Hotel Saigon Can Tho for example.

DAY 14

Can Tho - Ho Chi Minh City
Visit the floating market of Cai Ranh. Take a boattrip on the network of channels between lush vegetation. Then go back to Ho Chi Minh City.

DAY 15

Ho Chi Minh City
The Vietnam tour ends here, but it does'nt mean that you gotta leave.
If you're able to spend an extra day here in Saigon, Great ! In the morning travel south to Tay Ninh to see robed celebrants at the phantasmagoric Cao Dai Temple. When you're back in Ho Chi Minh, you might experience the sights central to the fall of Vietnam in 1975: Reunification Hall, War Crimes Museum and the former US Embassy. Hunt for war memorabilia at Lac Long's and Dan Sinh market. Cap the day with drinks at the Rex Tennis Courts bar and dinner at Tan Nam's (59 Dong Khoi Street).


I hope you enjoyed your Vietnamese adventure as much as we did. As i brought home wonderful pictures from Vietnam, you're invite to have a look at them in the Slide Show.