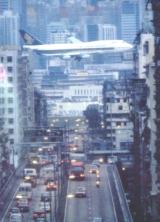 When i first arrived in Hong Kong back in 1993, i was impressed already before i even touched the ground. This must be the most difficult airport for a pilot to manage his plane between the concrete forest to the ground. A big turn on final approach, the mountains of Kowloon, and its downtown location make Kai Tak tricky enough that pilots have to land manually instead of relying on automatic flight controls. Seconds before landing on a runway that juts into Hong Kong's harbor, the plane must bank 47 degrees right. The pilot is guided by a red-and-white checkerboard painted on a hill, his or her vision, and - for part of the approach - a radio beam.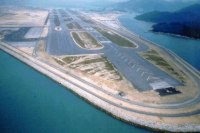 Luckily this has been changed recently as the new airport is now open. Hong Kong is one of the most beautiful cities i've seen from the sky. If you did'nt had the opportunity to view the city from your window-seat for some reason, there's no need to feel disappointed. Victoria Peak rising 554m above sea level and still the most prestious residential address on Hong Kong Island, is reached in just eight minutes by funicular railway and provides panoramic views of the harbour and Kowloon, the south side of the Island and, on a clear day, the myriad islands that make up the territory.

Divided into 12 chapters, it is with great pleasure that i made this Hong Kong pages, reminding me back to the wonderful time i've spent here twice. A quick slide show plus a map completes the list.