Hong Kong had its humble beginning in what is now Western district. Far from Western , it is strongly Chinese, a fascinating contrast to neighbouring Central district. Walking through the twisting, narrow streets, itís easy to imagine that you are moving through another time. The sights are strange and oriental. Shops sell a myriad of dried goods: fish, herbs, and some things bizarrely unrecognizable, for medicinal purposes. This is the place to buy a snake, when snake soup is in season. Youíll see paper funeral offerings that resemble childrenís arts and crafts, and old men walking their birds on their way to a telhouse. Traditional wedding dresses, red of course, call to future brides from shop windows. And incense burns languidly in the breeze, carrying prayers to the heavens, and respectful greetings to ancestral spirit.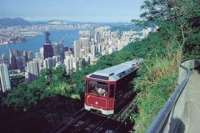 Next door is Central, Hong Kongís commercial and financial heart, where computer keyboards click away as quickly as their abacus counterparts a few blocks west. The impressive glass and steel statuary create a dynamic cityscape on the slopes below Victoria Peak. From Central, a trip to the top of Hong Kong by funicular tram offers a breathtaking view that puts everything in perspective, and is even more spectacular at night.

On the foothills of the Peak, the - Mid-Levels Ė stands Government House, the Governorís 19th-century mansion. Nearby, youíll find the exotic greenery of the Botanical and Zoological Gardens. Down the hill a bit is Chater Garden where, untill the 1960s, white-clad colonial administrators and merchant princes played cricket, to the astonishment of the clerks behind the Bank of Chinaís windows. A trendy collection of Western-style bistros has cropped up in the area known as Lan Kwai Fong. This is a popular spot with the local community, and also offers homesick travellers the opportunity to order a steak, or a plate of pasta, in more or less familiar surroundings, before deciding where to dance the night away. Wandering away from that environment, back towards Western, up steep, stepped ladder streets past ancient-looking tea houses and open air markets, down antique-filled Hollywood Road and past temples where weathered faces peer out through clouds of incense, youíll have come full circle. A walking tour of Central and Western districts is an excursion through the living history of Hong Kong, an insight into the culture and customs of an extraordinary society. A route planner is available from the Hong Kong Tourist Association. Donít miss it.



To enjoy some music, Hit play button on your left, Thank You.