Thailand... The Land of Smiles



It is not my meaning to go in detail about the Historical background, Economy or anything. I think i could spend a book on Thailand, so i just wanna highlight the Sights and places one MUST see if possible on your visit.

Bangkok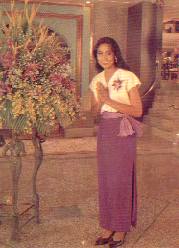 Alltough it is perfectly possible to enter Thailand straight to the International airport of Phuket this days, most of the incoming tourist will land at the Don Muang International Airport in Thailand's capital Bangkok. Most people find Bangkok bewildering because it has no centre. Strictly speaking, this should be the Lak Muang Shrine, where the city was founded and from where distances are measured. But the Democracy Monument, or the New World Centre could just as easily be the centre.


The Grand Palace and Wat Phra Keo

The Grand Palace complex with Wat Phra Keo, is the most famous landmark in Bangkok; it is not to be missed. A huge compound on the Chao Praya river opposite the Ministry of Defence, it is hard to miss anyway. There is no more evocative group of buildings anywhere in the world. Inside is the serene, fairly-tale world of ancient Siam. Surrounded by high, white walls, the complex was originally built by the first king of Bangkok in 1782. Subsequent monarchs of the Chakri dynasty added their own touches. Rama V chose Victoriian style architecture for the Chakri Maha Prasad, or royal residence, topping it with a traditional curved Thai roof. The palace is only used on state occasions; when ambassadors present their credentials, His Majesty receives them on a spectacular niello throne.(The royal family live in the more modern Chitralada Palace near the Marble Temple.)

Wat Arun

At Arun Amarin Road, energetic tourists can also ascend Wat Arun, the Temple of Dawn featured on many brochures. Named after the Indian dawn-god, Aruna, its tall, richly decorated prang (spire) dates from the early 19th century. It is build on the site of Wat Chang, the royal palace and temple complex when Thonburi was, briefly, capital of Thailand. It housed Phra Keo before the image was transferred to Bangkok. While undoubtedly masterful, Wat Arun is rather plain up close. The best view is from the river at dusk. Open: daily, admission charge.

Sightseeing by water

Although most of the canals that criss-crossed 19th century Bangkok have been filled in, there are seceral attractive klongs for water-borne sightseeing, as well as the Chao Phraya river. Klong San Saep is one. You can catch a boat rom Soi 63 or 71 in a southern direction towards Prakanong. Eventually you end up in the country. Other trips can be made by river to the port of Klong Tuey and north to Nonthaburi. The best times are 7.00 to 9.00 am and at dusk, but at this is local rush hour, boats are crowded with office workers. To rent your own long-tail boat - a noisy craft propelled by a car engine with a long propeller shaft - costs from 200 baht.

Bangkok by night

World-famous for licentious nightlife, Bangkok offers red-hot, buffet style entertainment. Appetisers range from family type Thai classic dancing and boxing to 'the other', which is what most tourists want to see. After dark the Thai capital assumes its official name - Krungthepmahankhirnbowornrattanakosinmahintarayuthayamahadilok-popnopparatratchataniburiromudomratchhaniwetmahasathan - in short: Krung Thep 'The city of Angels, though not perhaps what the ancients had in mind. Beautiful girls, usually from poor northeast villages, are skilled in all sort of feats. A 'Light Show' means topless dancing and nothing more. Other acts take places upstairs, with peep-holes to warn of police raids. Customers are not arrested. privatly owned roads, Patpong 1,2 and 3(gay) have the liveliest nightlife: a sea of neon bar-signs and blaring disco music.

Damnoen Saduak Floating market & Nakhon Pathom

Of several floating markets in Thailand, the one most frequented by tourists is on Klong Damnern Saduak, about 2 hours drive south of Bangkok. Tours leave early: by noon the klong is empty of craft. The town of Nakhon Pathom (35 miles from BKK) can be seen on route. Dating from 150bc, it is particularly sacred to the Thais, as Buddhism was first preached in Thailand near this spot. The 413ft spire of the huge Phra Pathom chedi looms above the trees. Half a mile west of the Phra Pathom Chedi is Sanam Chan palace. The country residence of Rama VI, it is a fanciful complex reminiscent of the English country estate. Bus tours travel direct from Nakhon Pathom to the floating market, along route 325. Independent travellers arriving in the town by bus take a water taxi from the bus terminal to the market. Or walk, keeping to the right of the klong. The bridge spanning the klong is the best vantage spot of the market. Jostling among the other boats are floating restaurants boats, their owners cooking small, charcoal stoves. An order is passed from boat to boat to a customer seated on the bank.

Kachanaburi and the River Kwai



One of Thailands largest provinces, Kachanaburi is a green,mountainous area abutting on Burma. The town was established by Rama I as the first line of defence against Burmese invasions through the Three Pagodas Pass. During World War II the Japanese used this route to supply their forces in Burma. Over 100.000 Allied prisonors and local coolies were employed to building the 'Death Railway'. This and the bridge over the River Kwai of book and film fame are the infamous attractions of Kachanaburi. Kachanburi is 80 miles west of Bangkok. The journey takes two hours. On your way, most tourists stops at the War Cemetrie. There are two but the biggest is the Kachanaburi War Cemetry in the centre of town. 6982 soldiers from Britain,Australia and New Zealand, Holland and the United States are burried in small plots, neatly kept by Thai gerdeners. It is a moving place. The JEATH museum is built to resemble a POW camp. Its atap-huts contain poignant memorabilia of the suffering. Located in the grounds of Wat Chai Chumpol, 163ft from the TAT office, the museum is open 8.30 am to 4.30 pm, admission charge.

Chiang Mai


Chiang Mai, about 435 miles by road north of Bangkok, is most people's first destination in northern Thailand. Its roots go back to the Lanna Kingdom, founded by King Maengrai in the mid- 13th century; the present city, surrounded by the moat and wall, dates from 1296. Wat Doi Suthep: the golden spire on the hill behind Chiang Mai. It is too far to walk, but thousands of Buddhist pilgrims make the trek each year. Many stories surround the monastry. One relates how a white elephant carrying a Buddha relic was allowed to wander about Chiang Mai. Where it stopped - some say collapsed - at the foot of Doi Suthep, a temple was built. A pagoda covered in gold tiles houses the relic. A cable car whisks you up to the temple platform from where you have a panoramic view of Chiang Mai. The monastry was completed in 1383. Among typical northern dishes are highly spiced Naem sausages, midly curried Khao Soi noodles, spicy fried catfish and vegetables in pepper sauce. A traditional dinner, or khantoke consists of soup, a variety of curries, vegetable ragout and 'sticky rice' eaten off a low table on the floor. Chiang Mai numbers several street markets, of which the Night Bazaar is the most clourful. The stalls open at about 7.00 pm untill 10.00 pm along Chang Klan Road near the junction with Suriwong Road, which is convenient for guests staying at the popular Dusit Thani Hotel. All sorts of items are offered for sale from ethnic hill-tribe garments to fake Cartier watches. Hilltribe artefacts - jewellery, embroidery and clothing - are attractive buys and the price is usually half of that in Bangkok. As usual, you should bargain vigorously for anything that takes your fancy.

Exploring the north

Mae Hong Son, 224 miles from Chiang Mai is a serene hill town near the Burmese border. Shrouded in intrigue, as well as mist, it is a melting pot of hill-tribe cultures. its age-old ways are not yet affected by tourism: people keep Mae Hong Son time. A market begins at dawn, and by 8.00 am it is over and the quaint hill folk have withdrawn. A few shops sell cheroots, vegetables, woven bags and sarongs, but otherwise the town is half-deserted. By dusk Mae Hong Son is dead. At night only opium smugglers are active. A good view of Mae Hong Son is from Wat Phrathat Doi Khong mu, a burmese style temple. For overnight accomodation, the Mae Hong Son Resort 3.5 miles from town is recommended. You can walk to a Karen village nearby without a tour guide. Very warm clothes are needed from november to february. To get there: by bus from Chiang Mai is a gruelling, è-! hours journey. Flying is also bumpy; there are 2 to 3 daily flights, flight time 40 minutes. Car travellers can visit Doi Inthanon National park (about 40 miles from Chaing Mai). The Golden Triangle, where the borders of Thailand, Burma and Laos meet, is 5.5 miles of Chiang Saen. A motorbike is the best means of sightseeing, or a bike, if you've time: they can be rented from the guesthouse. The actual apex of the triangle is formed by the misty confluence of the Sob Ruak and Mekong rivers at Sob Ruak, 7 miles from Chiang Saen. As well as opium, cross-border smuggling through the Golden Triangle involves manufactured items such as razor-blades, toothpaste and biros going into Burma, and also Laos, and stolen religious artefacts coming out. Tourism has reached up here, however, and a huge sign on an arch reads: 'Welcome To The Golden Triangle".

The east coast

pattaya, whose name in Thai means 'south west wind', is located on the Gulf of Siam, 91 miles or two hours drive from Bangkok. Strictly speaken it can be included in the chapter on Short Excursions from Bangkok, but the majority of tourists stay longer than just a day. Barely 20 years ago, pattaya was a little-known retreat for adventurous foreigners and weekending Thais from Bangkok, with no Hotels, a couple of restaurants and a small fishing community. Since then it has burgeoned into a global resort almost equidistant in flying time from America, Europe and Australia. There are now more than 15000 hotel rooms for package tourists on cheap charter flights. Pattaya may set your teeth on edge with the non-stop traffic chaos and beach-hawkers selling everything from fresh fruit to on-the-spot massage, but there is no denying its attractions; especially for single men. Pattaya has been called everything from the 'Queen of Asia's Nightlife' to 'The Biggest Brothel in South East Asia'. How you find it depends on what you seek. abeach version of Bangkok, it lacks nothing in entertainment. South Pattaya, or 'The Strip' is the liveliest area after dark. Between Beach Road and Pattaya 2 Road and in connecting sois (lanes) is the biggest concentration of cafés, bars, discos and massage parlours. Open air bars are lined with stools. Most have 10-20 hostesses. The Top 20 blares from every bar and shop. Even the 24-hour VD Clinic has muzak. Noise reaches a crescendo in the huge 'Palladium' entertainment complex, whose disco-theatre has laser lights and 15.000 watts of music power. Transvestite shows, always popular, are held nightly at the 'Alcazar' and 'Tiffany's'. Artists are happy to pose for photos after the show. They cost more than the admission.

Off shore islands

The islands beckon visitors from mainland Pattaya. Travel agents organise day-trips to the most popular, or you can barter with local fishing-cum-charter boats. Daily sea-charter rates range from 1500 baht, groups of 10 (off-season). Among the most popular islands are Koh Larn and Koh Sak. Both are quite developed with several hotels, restaurants and bungalows. Koh Larn has an 18-hole golf course. Snorkeling is good off the southern tip of koh larn, even better off Koh Lin, Koh Sak and koh Phai, reached in another hour's boat ride. Underwater visibility is good for divers. A day-trip to one of the nearer silands for swimming and a seafood lunch is recommended. The fresh crab is delicious. Koh Samet is another lovely island known for its powdery, crystalline sand, first grade for the glass industry. A national park, it has not been spoiled by development. Dagger-shaped and about 3.5 miles long, the island lies off Rayong province. Windsurfing gear may be rented on Ao phai, or 'Paradise Beach'. Beaching and walking are the main activities. There are some secluded bays for camping, but you must carry fresh water from Na Dang, the main village. malaria is a risk: take all precautions, including wearing long sleeve shirts and trousers after sunset. Boats for Koh Samet depart from Ban phe at regular intervals during the peak season. Departures at other times depend on passengers and cargo.

Koh Samui archipelago



Languishing in the Gulf of Siam, mid way down the isthmus, the koh Samui group of islands is becoming popular. Once the retreat of backpackers, the main island of Koh Samui - Kohmeans island - is slowly being transformed into an upscale resort. A large island, Koh Samui has dozen palm-fringed beaches. The two largest - Chaweng and Lamai - are the most developed. Smaller bays such as Chaeng Mon, Tong Yang and Mae Nam look like picture postcards: clear blue sea, white sand beach, lush green coconut plantations. Beaching is the main activity, or non-activity, on Koh Samui. Chaweng is equipped for windsurfing. Fishing boats can be rented. The lush interior offers pleasant walks. Accomodation is no problem. A friendly tout knows just the place. He will also arrange your transport.nUpscale tourists will like the Tong Sai Bay where 56 chalets overlook a private bay. Rqually good is the Imperial Koh Samui Hotel on little Chaweng Beach. it has a spectacular swimming-pool formed from natural rocks. Both properties are owned by the popular Imperial Family group of hotels based in Bangkok. The main town on koh Samui is Na Thon, where there are many cafés and shops geared to backpack travellers, mainly young Australians. As such its nightlife involves a considerable amount of beer-drinking and similar activities; not to everyone's taste maybe, but then Thailand does its best to cater to everyone ! Outside Na Thon are quiet villages where you can see the daily routine of unloading fishing boats, repairing nets and harvesting coconuts. Everywhere you go on Koh Samui you will smell roasting coconut; this and the island's laid back lifestyle remind me of polynesia. There are several options to sightseeing on Koh Samui, which has 32 miles of paved roads. You can take a conducted tour with a travel agent from Na Thon, or explore indepently. You can rent jeeps or motorcycles, or if you want to commute, local style, catch a song tao - a small pick-up converted into a bus by benches in the rear. As you whizz around the island, the driver calls out the names of the beaches, so you can't get lost. There are two inland waterfalls. Hin Lat is within walking distance of the port. Take your swimsuit. Koh Samui is surrounded by some 80 smaller islands of which the best known are Phangan and Koh Tao, or Turtle Island, whose inhabitants arze fishermen and coconut farmers.

Phuket



The internationally popular island of Phuket - pronounced 'poo-ket' - lies in the Andaman Sea off the southwest coast of Thailand. Attractive beaches and abundant watersports draw many tourists, but fortunately it is big enough to absorb them. Life is pretty much easy in Patong, the main destination on the island. Alltough you might twist an ankle on the walk from beach to shops. The main strip of hotels, restaurants, shops and travel agents runs parallel to the beach. I fell in love with this place since i came here for my first time. No wonder i went back very often, sometimes 5 times a year. Patong Beach is allways lively, however the best season to go is from october till april, unless you wanna avoid high season rates, then go the other months. Patong has a lively nightlife. Bars and clubs line Bangla Road. The brightest after-dark district is off Soi Bangla: the same open-arcade bars as pattaya, full of the same giggling bar-girls. There are glorious seaffod displays outside restaurants in Bangla Road. You will pay dearly to eat here. A pleasant way to visit Phuket's other beach resorts is by motor-scooter, rented from anyone - the waiter, the hairdresser, the fisherman's brother. Be extra cautious, however. None of these will be insured. Shared between couples, jeeps are a good investment. On a trip around the island from the north you pass:
Mai Khao Beach : Lined with familiar causarina trees, and protected during November to February when giant sea-turtles lay their eggs.
Nai Yang Beach: Within a National Park, near the airport. Good snorkeling on the coral reef.
Surin Beach: isolated, swimming dangerous due to unpredictable undertows. A 9-hole golf course.
Kata and Karon Beaches: Neither is as developed as patong, good diving at the southern end of Kata Noi.
Nai Harn Beach: At the tip of Phuket, this was the hippies' favourite. Today VIPs stay at the Phuket Yacht Club Hotel here and moor their yachts beneath the cliffs.
You can no longer find cheap, nipa-palm huts on Phuket. The majority of accomodation is in air-conditioned hotels and bungalows. Chalet, or bungalow style accomodation is most appropriate for seaside holidays. The most luxurious complex is the Amanpuri, which is Indonesian-owned, and high on style and prices. A cruiser is available for example. The Phuket Island Resort at Rawai Beach is upscale - waterfalls, jacuzzis, package tourists. Club Med is the usual lovely location at Kata, but once rustic, Kata seems likely to become another Patong. Kata Noi remains on the outside looking in with good accomodation at the 160-room Kata Thani. It is hard to suggest suitable accomodation in Patong. At the south end of the bay, the Coral Beach is isolated, but swimming is poor. Set in huge gardesn, the Club Andaman is the best bet. Close enough to walk to town, but out of earshot of its razzamatazz. I mostly stay at the quite new Patong Seaview Hotel at the other end of the beach, also within easy walkin distance from town and away from the noise. It is a very nice hotel, with as the name says, seaview! Another hotel which i used to stay at, is the Phuket Cabana, A Bungalow complex right on the beach, but it became a bit expensive these days. Patong Beach Hotel is another very pleasant place to stay, very near to town and lots of aminities. A huge landscape swimming pool and several nice restaurants. See you next december in Phuket ???

Phang Nga Bay



Phang Nga Bay in the mainland province of Phang Nga is about 62 miles from phuket. It is well known for its spectacular scenery - huge limestone cliffs and weird rock formations jut out of the turquoise sea. The bay provided the backdrop in The Man With The Golden Gun. A road sign before Phang Nga points to the James Bond Island.
A tour of the bay by long tail boat costs 500 baht for 2 hours. Rocks named after their shapes - Egg, Nail, Puppy and so on. At the point the boat glides over 162ft(50m) beneath an outcrop known as Tham Lawd. Stalactites encrust the ceiling and, frightened by the noise, bats flap into the light. The shoreline around Phang Nga is a tangle of mangroves inhabited by strange creatures like the pig-tailed macaque and walking fish.
Outside the entrance to the Phang Nga River is a Muslim fishing village built on stilts. Everything is on stilts, the market, the school, even the soccer field. If a ball is kicked over the back line, it goes into the sea and the goalie plunges in to retrieve it. Accomodation is at the Phang Nga Bay Resort, a comfortable hotel on the riverbank.

Krabi

If you leave phuket early, Krabi and Phang Nga can be visited in a day, Visit Krabi first and spend the night in phang Nga as suggested. it is only a question of time before Krabi catches up with Phuket. At present its long beaches lined with coconut palms are undeveloped. The most picturesque, Ao Phra Nang, has a comfortable hotel, the Phra Nang Inn. The next beach, Noppharat Thara, is rather shallow and would suit families. Shell-collecting is good here. The particularly ugly Krabi Resort has accomodation.
You go to Krabi to escape the tourists in phuket, but avoid weekends when its crowded with local Thais unless you'll like to hang out with them, which i do. The food is good and the town on the river has a certain charm, with one or two junks from Malaysia moored at the wharf.
Nearly 4 miles north of Ao Phra Nang is the shell Cemetry, a graveyard of freshwater snails which died some 75 million years ago when the sea flooded inland swamps. The huge slabs are actually billions of shells cemented together by silica deposits. it is one of the three such sites in the world.

Phi Phi Islands



Many tourists in Phuket wish they had heard about the Phi Phi (or Pee Pee) islands in advance. Phi Phi Lae and Phi Phi Don are two enchanting tropical islands lying 26 miles off Krabi province. They are reached by a daily excursion boat from either Krabi or Phuket. Departures from Phuket are at 9.00 am. with Pee Pee Marine Travel; the fare includes lunch and snorkeling. The trip takes about 3 hours in good weather conditions only. Return to Phuket around 5.00 pm. Dumpbell-shaped, Phi Phi Don is the larger of the two islands with lush , jungle-clad hills, soaring cliffs and white sand beaches. It resembles the Seychelles. Boats land tourists at Ton Sai Bay for lunch. The Ton Sai Village Hotel has bungalow accomodation. Under the same management, the Pee Pee Islands Cabana is more upscale. Both face the beach. Day-trippers tend to spoil the atmosphere here, but other places are more remote. Phi Phi Don has a surprising amount of other accomodation mainly nip-palm bungalows. Originally fishermen and coconut farmers, many of its 500 residents have turned to tourism, helped by wealthy friends in Krabi.
The island is too small to cope with many people, and the peak season should be avoided. Allthough storms are frequent during the off-season (june-october), the occasional sunny day is glorious; the average temperatures is 86°-92°F(30-33C). prices are 50 percent cheaper then. Backpackers have a huge choice. The small Pee Pee Resort with its tiny beach huts, each with bathroom and shower, is recommended. The Pee Pee Village Resort, in a beautiful bay on the northeast coast, has 60 air-conditioned bungalows. Transport on the islanf is by long tail boat; cost off-season about 150 baht for two hours' sightseeing. otherwise you walk. There are no cars or motorbikes because there are no roads. The government in Bangkok has forgotten Phi Phi Don. There are no street lights and there is no policeman. Apparentely they don't have any trouble.
Boats dock at Ao Don Sai, the only village of some 50 houses-cum shops. people commute along a concrete path by the bay. At the centre of the village is a huge banyan tree filled with bats: steer clear after dusk. There are few simple restaurants which charges seafood by weight. They sell Thai beer. Shops have limited Thai-style stock, so take everything you may need, especially mosquito repellent. Phi Phi Don has no nightlife and no watersports. Diving is its main tourist attraction. Coral reefs extend south of Run Tee Bay. The diving is also excellent off Bamboo island, 50 minutes away by boat.
It is a 30 minute crossing from Phi Phi Don to Phi Phi Lae. The smaller island is almost sheer limestone cliffs rising out of the sea. Spectacular turquoise inlets offer wonderfull swimming. The best plan to take a picnic. No one may stay overnight on account of the lucrative birds' nest export business to Hong Kong and China. Tiny - three fit in the palm of a hand - the nests are not twigs and lime as you might think. They formed from a sticky solution secreted by two glands near the beak of the brown-rumped swift, which nests on Phi Phi Lae. Connoisseurs grade the nests like vintage wine: USD 100 per 500 grams(just over 1lb). You can see why they are expensive, on visiting Phi Phi Lae. The birds nest among of stalactites jutting off the roof of an awesome cave called the Viking Cave, after early sketches of boats on a wall. The method of amassing the nests is mind-boggling. The collectors, usually Muslim fishermen, must climb long bamboo poles secured only by flimsy raffia. Strapping candles to their heads to light the way, the men ascend hundreds of feet into total darkness. Using long poles, they knock down the nests. Collecting is only permitted twice a year, between March and May and in September,after which the chicks are left undisturbed. A huge stalagmite altar explains the risks involved. Before climbing, the men place white flags and other offerings at its base. Chinese licensees in phuket pay them 10.000 baht a month. There is no insurance coverage. Flash photography inside the cave is forbidden.